It's hot in Austin these days. Really hot, with no relief in sight: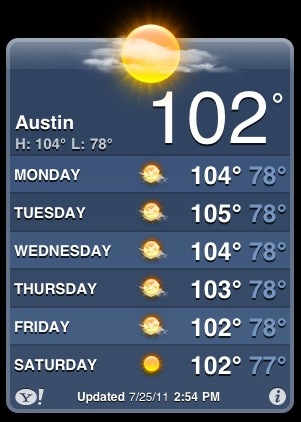 The good news? It's too hot for the RZ Dev Team to do anything but write code! So, we've got some cool new features for you:
Automated Withholding Tax and Value Added Tax Calculations
You can now enter a WHT and/or VAT percentage for each of your agreements. RoyaltyZone will make the calculations and adjust the invoice as necessary. View the tutorials: How do I manage Withholding Tax? and How do I manage Value Added Tax? NOTE: once you enter your percentages, email me if you need us to regenerate any of your open invoices to reflect WHT and/or VAT
Unusued Associations Report
Ever wonder if you missed a property or category on a license agreement or participation agreement? Need to pare down your category list? This new report (last link on the Reports page) will export a list of all of your unused rights, across all of your agreements.
Agreement Entry Warnings and Errors
We've added a bunch of error and warning messages that will make it easier to enter complex agreement terms into RoyaltyZone. We even hide the publish button until you fix the issue!
Add Rights – Search Box
There is a new search box on the Property, Territory, and Distribution Method selection page in the Agreement Entry flow. This will make it even easier to find your desired rights from a large list of items. Just enter a keyword, then use the "Select All" link, or check individual rights, to add them to the agreement. Hint: if you need to add all rights, except for a few items, you can "Select All", then use the search box to unselect specific items.
New Recurring Fee: Lump Sum
You can now add a Lump Sum recurring fee (Marketing or Ad Fund) to your license agreements. Lump Sum recurring fees are automatically added to every royalty report and invoice.
Coming Soon: QuickBooks Interface!
We are putting the final touches on a cool new plugin for QuickBooks that will import customers, vendors, items, invoices, and bills from RoyaltyZone at the click of a mouse. Wanna be one of the first to try it out? Shoot me an email!
Stay cool,
Lou Ellman
Chief Royalty Crusader
RoyaltyZone, Inc.
royaltyzone.com
P.S. Please tell your licensing friends about RoyaltyZone. We love referrals!